Just get finished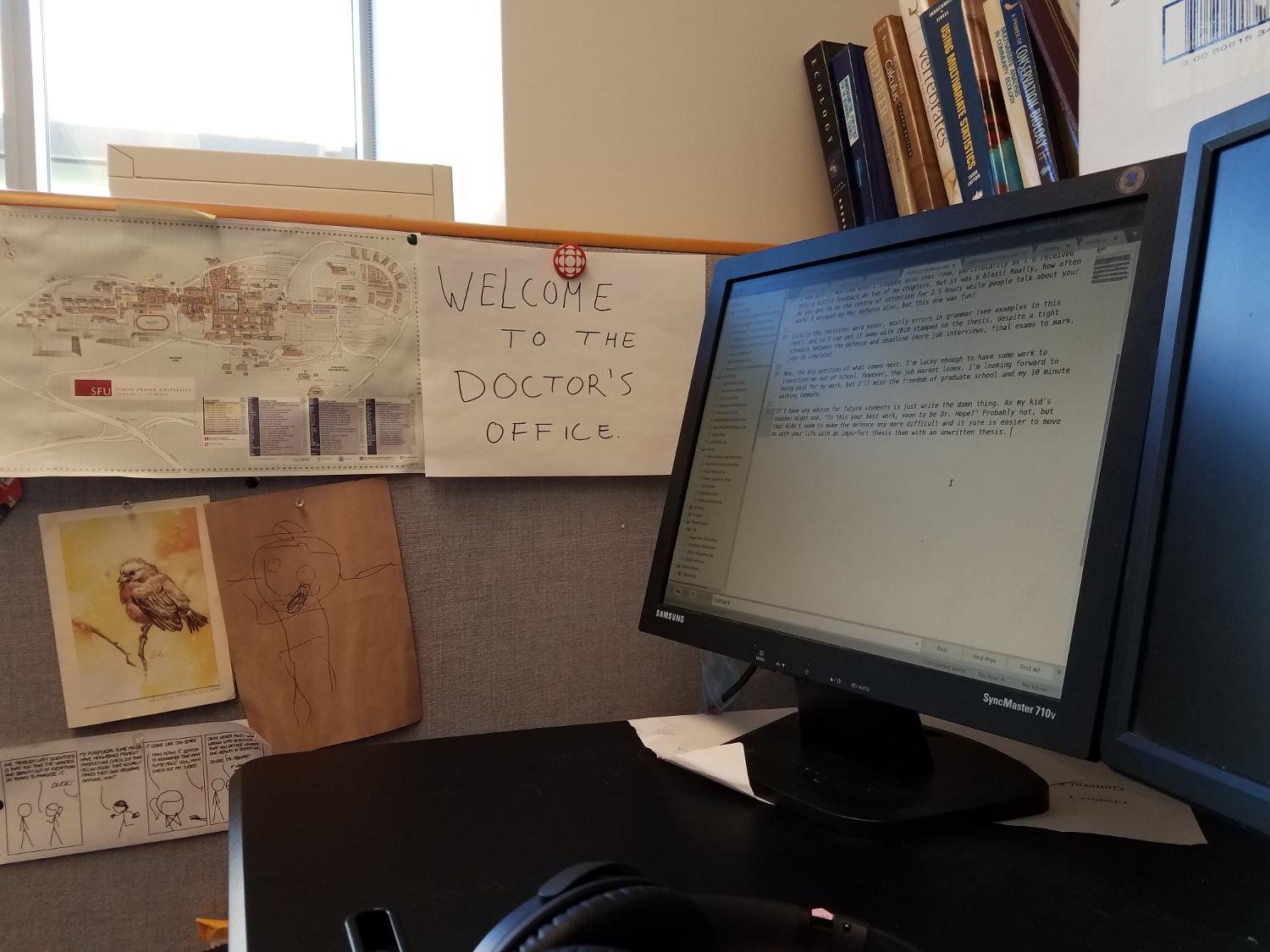 It feels weird to be on this side of my defence. For so long (sooo long), it felt like I'd never get a document that my committee would look at as a thesis and then the transition from thesis to defence flew by. Between having a version that my supervisor could strong arm the committee into approving and the main event, I got a job, interviewed for several others, and was busier than I had been for much of my thesis. I had to push the preparations for the actual defence into the evenings after the rest of my life had calmed down.
I was pretty worried when I stepped into that room, particularily as I'd received only a little feedback on two of my chapters. But it was a blast! Really, how often do you get to be the centre of attention for 2.5 hours while people talk about your work? I enjoyed my MSc defence also, but this one was fun!
Luckily the revisions were minor, mostly errors in grammar (see examples in this text), and so I can get it away with 2018 stamped on the thesis, despite a tight schedule between the defence and deadline (more job interviews, final exams to mark, jobs to complete).
Now, the big question of what comes next. I'm lucky enough to have some work to transition me out of school. However, the job market looms. I'm looking forward to being paid for my work, but I'll miss the freedom of graduate school and my 10 minute walking commute.
If I have any advice for future students is just write the damn thing. As my kid's teacher might ask, "Is this your best work, soon to be Dr. Hope?" Probably not, but that didn't seem to make the defence any more difficult and it sure is easier to move on with your life with an imperfect thesis than with an unwritten thesis.